programs
2020 Education Grants Funded
Statewide Agriculture Organization
ReTreeUS - Richard Hodges, Durham
Fall Seedlings for Back to School Gardens
ReTreeUS will distribute cold-hardy vegetable seedlings to 8 schools that participate in our orchard programs, creating "Back to School Gardens." Students will learn about the agricultural practices of successional planting and season crop production while generating nutritional produce for the cafeteria and demonstrating the Back to School Garden model.
Maine School Garden Network - Michelle Erhard, Augusta
Gathering Gardeners: Annual Meeting & Virtual Workshops with MSGN
Maine School Garden Network will plan and implement an enhanced annual meeting & virtual workshops. These collaborative events will draw folks from across Maine, virtually and (hopefully) in-person, to learn best practices from engaging speakers, network with other school garden stakeholders, and share ways to be involved with MSGN.
Agriculture Leadership
Ashland District School - Janet Perry, Ashland
FFA Leadership Opportunities 2020-2021
While in very unusual times, Ashland FFA isn't able to travel as would normally happen. However, Ashland FFA hopes to continue to learn about agriculture outside the traditional classroom setting with student trips when possible - perhaps exploring agriculture within Maine. There are also plans to attend the 2021 State FFA Convention.
Maine FFA Association - Doug Robertson, Augusta
Maine FFA Student Recognition
This project supports the Maine FFA Association (formerly known as "Future Farmers of America") at their annual State FFA Convention to provide to middle/high school students enrolled in agriculture/natural resources education opportunities and recognition awards not directly covered by assistance from the National FFA nor from other organizations.
Agriculture Awareness $1,000
Saccarappa School - Guyla Woodbrey, Westbrook
See It Grow!
The students and staff at Saccarappa School would like to apply for a 2020 Maine Agriculture Grant. The funding would allow the school garden program to purchase equipment needed to transform our inside common areas into mini greenhouse areas during the winter months in preparation for the outside growing season.
Agriculture Awareness $2,000
Messalonskee Middle School - Rebecca Cobban, Oakland
Growing Together in Learning
Messalonskee Middle School's "Growing Together in Learning" Project will connect our school library program with our new indoor and outdoor Agricultural Awareness Learning Center. Our project will promote agricultural education and research to our students in our new library agricultural reading and resource area which will also include hands-on experiences.
MSAD 72 - Christina Littlefield, Fryeburg
Gardening for Learning and Life
The Agricultural Based Learning Environment (ABLE) will focus on plant science this year: soil quality, growing - traditional/hydroponics, harvesting and cooking. Girls trips to host farms allow in-person and remote students to participate in Ag practices and grow their understanding of food and the social/economic impacts of agriculture on society.
School Garden and Greenhouse
China Middle School - Krista Averill, South China
CMS Grows
China Middle School's "CMS Grows" Project will grow healthy foods for our students, cafeteria and community. Our goal is to establish an educational program that will support our students in meeting their learning targets in the classroom while conducting hands-on investigations in agriculture grades five through eight.
Maine Academy of Natural Sciences - Jeffry Chase, Hinckley
MeANS Greenhouse Program Expansion
Maine Academy of Natural Sciences would like to expand upon the educational experiences in our schools greenhouses by implementing four new projects; a solar dehydrator for preserving the herbs we grow, automating both the water and feeding systems for weekend and vacation coverage, and expanding the aquaponic trough system to allow for larger quantities of produce grown. The greenhouses are already an integral part of the student's learning at the school and these improvements will ensure long term success of our agriculture program.
Saco School Department, Sacor Pre-K - J'Aime Walker, Saco
Saco Pre-K School Gardens
Through the use of grant funds we will be able to set up and designate garden beds for use by each of our pre-k classrooms which will allow our students to cultivate and grow their own vegetable plants.
YMCA Camp of Maine - Martha Simpson, Winthrop
YMCA Camp of Maine Raised Bed Gardens
One of the goals of the YMCA Camp of Maine is to encourage campers to make healthy lifestyle choices. By being able to expand our raised bed gardens, campers and staff will have greater access and choice of farm-to-table fresh produce.
Stevens Brook Elementary - Elizabeth Shane, Bridgton
SBES School Gardens & Greenhouse
Stevens Brook Elementary School in Bridgton has successfully built a greenhouse! Now we intend to build gardens for students to plant, cultivate and harvest. In addition, we need supplies and equipment to complete our vision including a rain barrel and gutters to recycle water.
Lee Academy - Susan Linscott, Lee
Lee Academy: Greenhouse For Growing Across the Curriculum
The greenhouse at Lee Academy will be restored so that it can be both a learning space for the school and a benefit to the community. The greenhouse will be used by science classes and across the curriculum at Lee Academy. As part of the school's place-based curriculum, students will learn to grow their own food, applying their understanding of science while also learning about budgeting, space and energy management, and cultural considerations. Students will start plants in the greenhouse that will be transplanted to a school garden. Produce will be used in the schools' dining hall and donated to a food cupboard serving local students and their families throughout the rural area. Students from neighboring Mt. Jefferson Jr. High School and community members will also be invited to use the greenhouse for projects.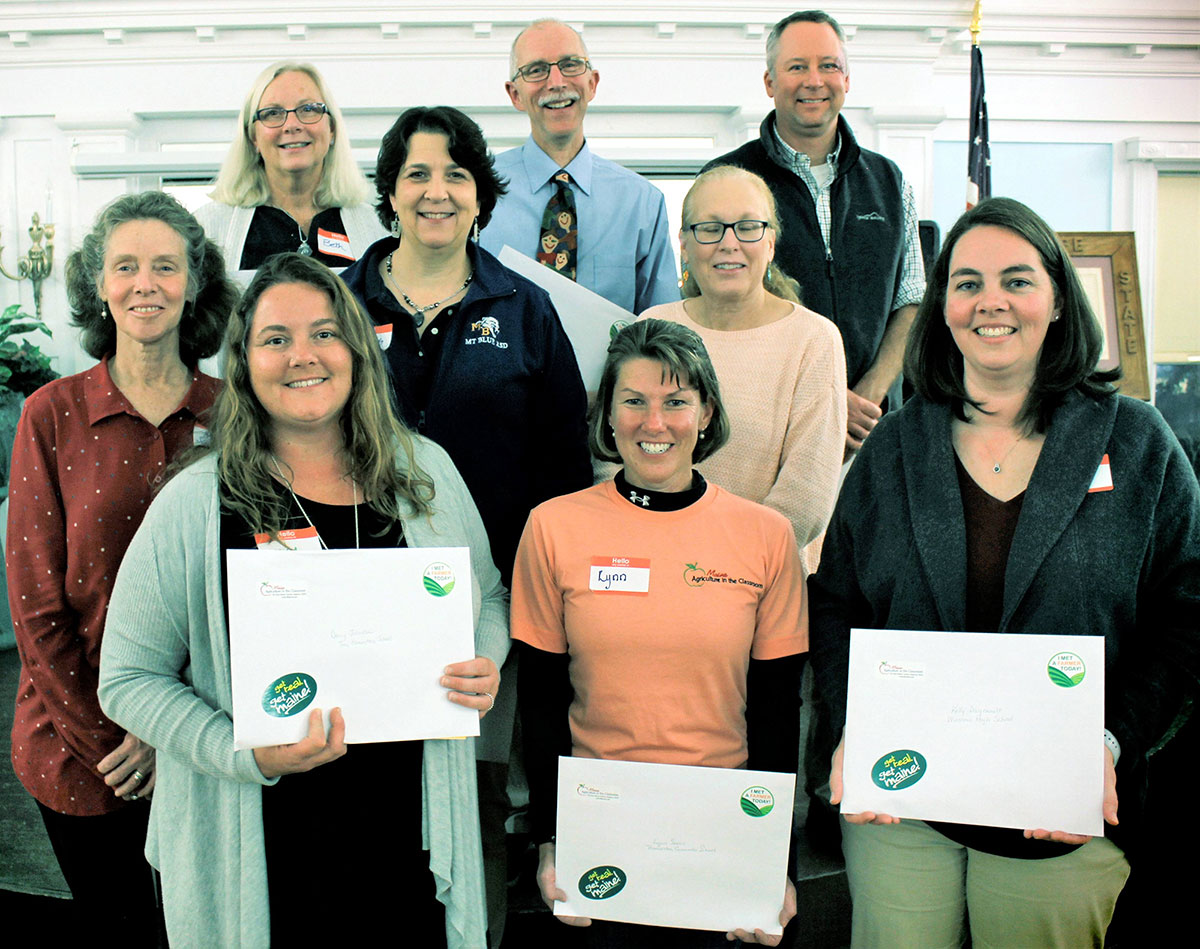 ---
Grants Archive