programs
MAITC Teacher of the Year 2007
Don Sprangers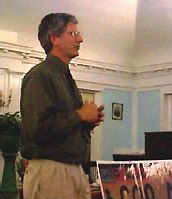 Don was also granted a National AITCA Excellence in Teaching About Agriculture Award! Congratulations, Don!
Maine Agriculture in the Classroom Association is thrilled to introduce our 2007 Teacher of the Year, Don Sprangers, of Washington Academy in East Machias. Don has incorporated agriculture into numerous aspects of his students' lives. His work with Maine and international students using agricultural concepts integrated into a Sustainable LIFE Curriculum, clearly shows these young adults how agriculture influences all of our lives, every day.
The Washington Academy's Sustainable LIFE Curriculum promotes agricultural literacy by involving students in the school and community garden/greenhouse projects, the wetland nursery and Lyman O. Hill Tree Nursery projects, bioremediation of wastewater discharge at a local salmon hatchery, and through the experimentation, production and use of biodiesel. These projects, in part, were initiated by the students.
Growing food for themselves, the cafeteria, and the community, is just a beginning for them. They also collect seeds, then propagate, grow and plant native saplings that they later use to restore habitat and to create buffers between agricultural lands and local waterways. Students are also working extensively with local aquaculture and transporting themselves from site to site in a bus powered from biodiesel that they have prepared themselves from waste vegetable oil that they collect from local restaurants. All the better that their bus smells vaguely of French fries. (Don will demonstrate this process at our 2007 Summer Institute.)
In June, Don will be traveling to New Orleans to meet teachers from across the country at the AITCA National Conference. We are so proud that he is representing the great state of Maine.
---
Past Winners
2006 Neil Lash & Jon Thurston
2004 Steven Tanguay & Don White