programs
MAITC Teacher of the Year 2014
MAITC is pleased to announce that Kelly has also been recognized as an outstanding educator by the American Farm Bureau Foundation for Agriculture White – Reinhardt Award which she will receive at the National AITC Conference in Hershey, PA this June.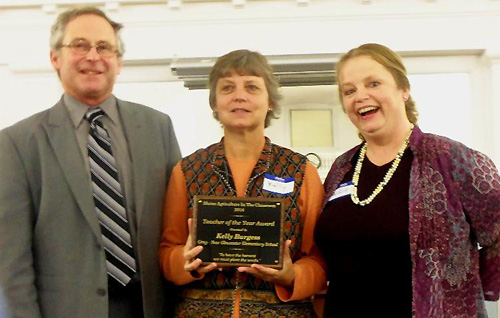 Kelly Burgess, from the Gray/New Gloucester School System, Pre-Kindergarten, has been named the 2014 Maine Agriculture in the Classroom (MAITC) Teacher of the Year. The award was presented to Burgess by Maine Agriculture, Conservation & Forestry Commissioner Walt Whitcomb, on October 23rd at the Maine State Grange in Augusta.
Burgess, a firm believer in learning through doing, received the award for her work teaching students where their food and clothing come from. Classroom field trips to orchards and farms have been an addition to her classroom since 2009 when funding from the Maine Agriculture Specialty License plate first became available in the form of Agriculture Awareness Grants. "These young learners have no idea where food grows. These are lessons they will remember all their lives!" says Kelly, "The hands-on activities are really exciting for the students and sometimes the parents too. It makes their learning come alive."
---
Past Winners
2006 Neil Lash & Jon Thurston
2004 Steven Tanguay & Don White