programs
MAITC Teacher of the Year 2012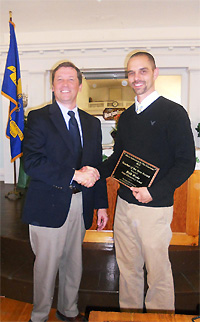 Each year, MAITC recognizes an outstanding Maine elementary or secondary school teacher who uses agricultural education materials and/or activities in the classroom to such an extent as to merit our special award. The winning teacher is then required to submit—with our help—an application for a National AITCA Excellence in Teaching About Agriculture award and attends the National AITC Conference held in sunny Ft. Lauderdale, FL for 2011 and Denver, Colorado in 2012. Maine's teacher of the Year also attends the annual Summer Teacher's Institute free of charge and shares their program with the teachers there.
Erik Wade
He is the science and mathematics teacher for grades 6, 7 & 8 at Hope Elementary School has been named the 2012 MAITC Teacher of the Year.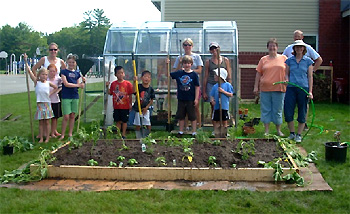 His work to develop a school-wide composting program as well as the integration of a garden and greenhouse has earned this recognition. Mr. Wade has adapted lessons that include concepts from the garden project into all 3 grade levels and align to the state and national standards. His students have designed raised beds, presented them to the school board, and planted a variety of vegetables and flowers in them. They study pollination, plant systems, botany and the water cycle. A parent group meets after school to support the program.
The award was presented at the 2011 MAITC Annual meeting by Commissioner of Education, Stephen Bowen. In June 2012, Erik will travel to the National AITC Conference in Loveland, Colorado.
---
Past Winners
2006 Neil Lash & Jon Thurston
2004 Steven Tanguay & Don White